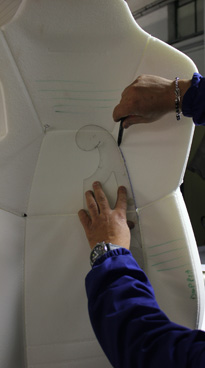 Each project begins with a careful analysis of the customer requirements. Already from the earliest stages of formation of a prototype we try to simplify the product to produce it then more easily. Working at Aras therefore means for us having the ability to go beyond the initial appearance of a project to find the weak points and be able to cancel them.
Each person in our team works with passion and experience, putting his skills at the service of the pursuit of the best result: from the choice of materials to the care of the finishings, each step is done with craftsmanship and industrial efficiency. The strength of Aras, in fact, is the ability to invent machines able to duplicate unique pieces and standard components that give personality to a car.
The company over the years has acquired a specific mastery in managing projects from start to finish. The activity of prototyping led Aras to create a real department assigned to it and a well-defined project-management system. All departments are involved at the outset of prototyping, so that the work is carried out simultaneously and incisively.