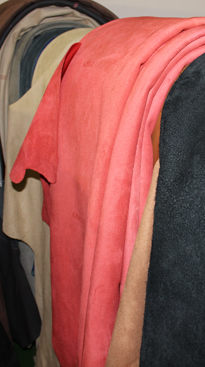 Aras s.r.l is a firm certified UNI EN ISO 9001 and ISO/TS 16949 that starts its activity in 1989 – the year it is founded – as a branch of Gruppo Gallino Plasturgia S.p.A.
This specific manufacturing company has been a key player – both in Italy and abroad – of the practical evolution in realising components upholstered in leather, technical materials-carbon fibres and fabrics of the highest qualitative and technological level for the field of Automotive, Transportation and Railway.
In 1999 it reaches full operative and prototype/commercial maturity thanks to Riccardo Guareri and Sergio Capello's personalities, and decides to break away from Gruppo Gallino, though keeping the same organizational set-up. It's in these years that the company – by developing cooperation with important groups in the car field, such as TRW Automotive, Autoliv, Lear, Adler Evo, Isgringhausen, Gruppo Fiat, Ferrari, Lamborghini – consolidates its presence on both national and international markets and becomes a leader in this field.
A HISTORY OF RESEARCH
Continuous research in the prototype environment, alongside well-known style centres Italdesign ( Giugiaro ), Bertone Stile, Centro Stile Fiat and others, nowadays allows Aras to be a benchmark, in excellence, in the development and outfitting of sport and particularly refined trims ( Ferrari, Maserati, Lamborghini, Mc Laren, Audi ecc…)
The Know-How acquired in the automotive field has pushed the company into researching new opportunities in other environments, allowing it to reach remarkable results also in the fields of aeronautics and railways. The latter sees Aras as a key player in the production of interiors, in the proposal on new solutions and materials.
OUR MACHINERY
Aras is continuously seeking state-of-the-art equipment and machinery which allow it to produce the most daring creations. Aras has an internal mechanic workshop which allows it to realize some of the tools needed for upholstering, thanks to a well-qualified team.